STEP 1.
Inspect both shafts (driven & driving) and hub bores and comfirm they are clean and no dirty particle or burrs.
Be sure they keys fit shafts properly.
Mount both hubs to the shafts securing only one hub while the other side hub should be loose for minor adjustment of spacing.
In case tapered being used, follow bushing manufaturer's instructions.
If hub is bored for and interference fit, we recommend heating the hub in water, oil bath or an even and after heating, immediately positioning it on the shaft.
Be careful spot heat may cuase distorition.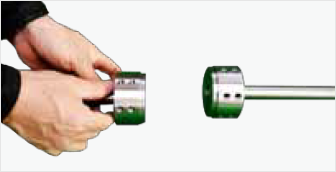 STEP 2.
Place half of the element around hubs and secure with capscrews provided.
The element will space the other hub. It is important to have capscrew properly tightened.
For placing proper capscrew, see the recommended cpascrew torques for proper installation below.
Now secure the other hub to the shaft.
STEP 3.
Mount other half of the element to hubs.
Tighten all capscrews to the recommended capscrew torques for proper installation below.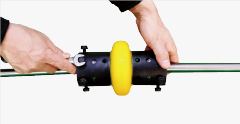 - Aboves shown spacer type coupling installation; the same procedure applies for the standard type coupling.

-Helpful tip!
If the capscrew holes in the element do not line up with the hubs properly due to equipment misalignment, please rotate the shafts as you can install each capscrew. For larger couplings, first install the capscrew that is positioned in the center of the half element.

Recommended capscrew torques for proper installation
Coupling Size
Bolt Size
Torque
Nm
in lb
F-110
M8
27
240
F-125
M8
27
240
F-130
M8
27
240
F-150
M10
53
468
F-170
M10
53
468
F-190
M10
53
468
F-215
M10
53
468
F-245
M10
53
468
F-290
M12
92
816
F-365
M14
158
1,404
F-425
M14
158
1,404
F-460
M14
158
1,404

Note
A bolt having the highest tension should be used.
Locktitle as an adhesive should be used.
A bolt should never be used twise.
Never treat a bolt with oil.